Hope you all had FANTASTIC weekend. Mine was mostly yardwork (sigh) but I did manage to finish a scrapbook layout.
I colored some of them with Copics and then used some of our pre-colored digital stamps too.
Couldn't resist adding one of my original paper pieced Tear Bears, which are such fun to make and thought he would be perfect with the addition of a paper pieced divers mask and snorkel.
You can click on the pics to see it in more detail.
We are also sponsoring THREE challenge sites today........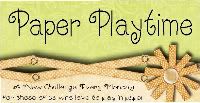 Be sure to check them out and don't forget about our own Challenge site
ALSO remember to get this weeks freebie from our store and get your challenge entry in at our
SNR group.
Have a fantastic day and see you tomorrow for our Tuesday tut with Jo.
Hugs